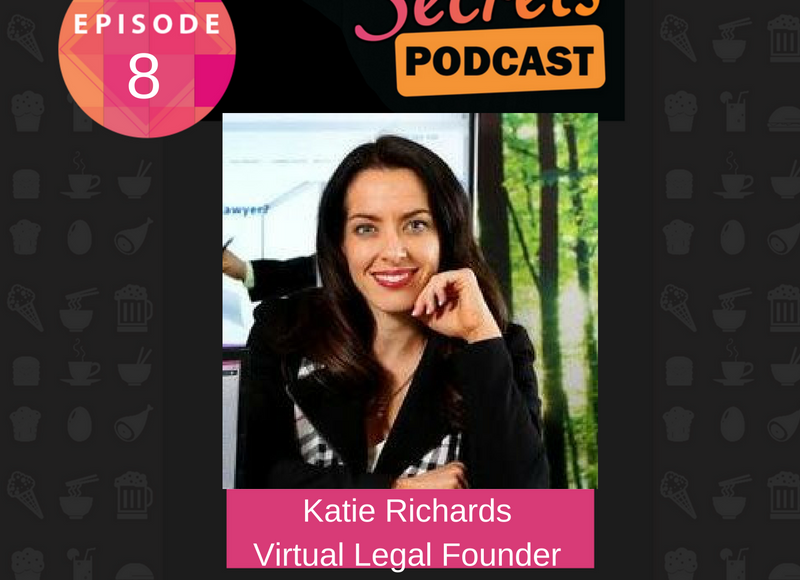 Podcast: Play in new window | Download

Katie Richards
Virtual Legal & Franchise All-rounder
Entrepreneur, Lawyer, Educator, Author and Innovator. Katie is a commercial solicitor passionate about systematisation and efficiency. As previous commercial legal advisor to corporations like Domino's Pizza, National Australia Bank, GE Mining and Ecowash Mobile both in Australia and in the USA, Europe and Middle East.
As a strong advocate for the provision of access to legal services Australia-wide regardless of financial position or geographical location, Katie set about the establishment of Virtual Legal, driving a high-energy team of lawyers to provide standard legal services through an online platform allowing clients to have legal work done without leaving their home or office. The use of the latest technology and systematisation of all processes within the corporation has given Katie's team the ability to charge only competitive fixed fees for amongst other things retail leasing, commercial leasing, buying franchises, selling franchises, setting up franchises, wills and estates services, and setting up new companies and trusts.
During my conversation with Katie she shared with us:
Having the right mind frame before you enter franchising
Using professionals that know franchising not just dabble in it
Using DISC behavioural profiles
The questions you should ask your Lawyer
What makes a good franchisee
Being "Buyer Beware" when entering a franchising
Katie's "One Thing" that she does every day…..
Have a quick meeting with her staff every morning so that she can get an idea what is really going on in the business
 Katie's secrets are
Getting "Me Time" – Be deliberate; take time out for thinking time
To getting the right employee – align your employees to your company vision and values and culture
Cashflow – Share cashflow with the team; involve everyone so they know how important cashflow is
Katie's tip for new Franchisees….
Know where you want to be in 10 years time and plan accordingly
Ask the franchisor; "What is the hardest part of running your business?"
Interview Question – Who are you? What are your values?
The two books Katie recommends
The five love languages – Gary Chapman
http://www.5lovelanguages.com/resources/books/
Eat that Frog – Brian Tracy
http://www.briantracy.com/blog/tag/eat-that-frog/
Who is responsible for the businesses success?
The Franchisee – at the end of the day the Franchisor provides the system but the Franchisee provides the personality
Quotes:
"If you have one franchisee who is unhappy in the franchise system they can do a lot of damage" Katie Richards
 "You have to love what you do – you will have plenty of good days and plenty of bad days" – Katie Richards
 "Franchisees need to be willing to give it a good go; be willing to be knocked down and get back up" – Katie Richards
 "You (Franchisees) must be good at paperwork and record keeping" – Katie Richards
 On doing Due Diligence:-
 "When researching your franchise system, really do your online homework – Good old Uncle Google has a lot of information" Katie Richards
 "Go and speak with other tenants in the Shopping centre to understand the traffic flows of the centre and speak with Centre Management about their plans for the future" Katie Richards
 "Most of your due diligence should be done before you actually apply for the due diligence documentation"   Katie Richards
 Selected Links For This Episode
https://au.linkedin.com/in/katiemrichards
https://en.wikipedia.org/wiki/DISC_assessment
For your FREE E-course click on the link http://www.franchiseesuccess.com.au/wish