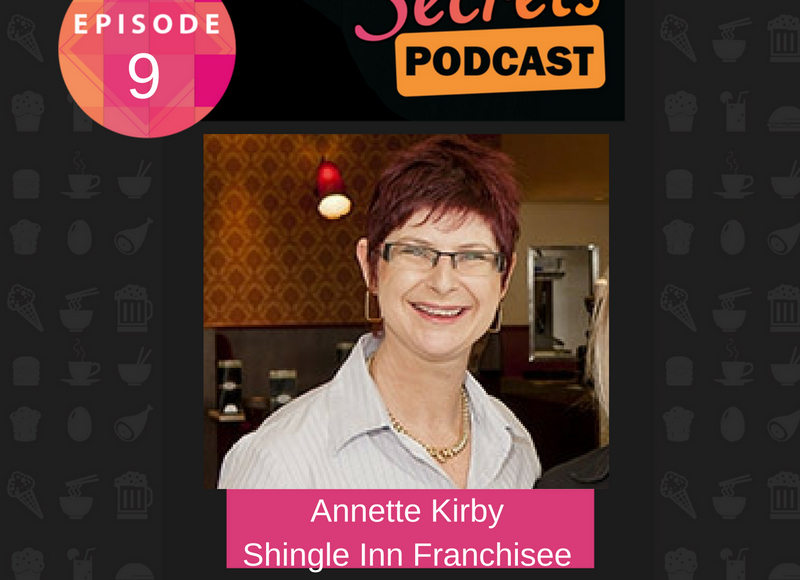 Podcast: Play in new window | Download


Annette Kirby
Shingle Inn Franchisee
Annette is a glamorous Coffee Shop owner who works 12 hour days. She opened her first Shingle Inn cafe in Caloundra in December 2009 and her second Shingle Inn Cafe in Sunshine Plaza in December in 2011. She was the "first on file" franchisee in the Shingle Inn franchise system. Her Caloundra store was the second franchised store in the Bellchamber family owned, Shingle Inn Café brand.
The original Shingle Inn was famous for its delicious cakes and sweet treats, but it continues today to be so much more. Their new menu is evidence of their ability to keep abreast of new trends in food in an ever-changing, highly competitive market."
Shingle Inn recently celebrated its 80th anniversary, having opened in Edward Street, in Brisbane's CBD, in 1936. Despite always offering a lunch menu, it was most widely known for its cakes.
During my conversation with Annette she shared with us:
Knowing what you want from Franchising before you buy in
Having non-negotiable activities that are planned and mapped out
Being passionate (crazy) about the business you are buying into
The hard work that a franchisee signs up for
Her first day in her store
Working with family
Sharing staff between stores
Researching your competition
Annette's "One Thing" that she does every day…..
Annette's secrets are
Getting "Me Time" – Tuesday afternoon is Yoga time
To getting the right employee – may sure they walk in with a purpose and have researched your business
Cashflow – pay bills on a weekly basis
Annette's tips for new Franchisees….
If you have lost your passion get out and do something else.
Provide feedback to your Franchisor
Attend all your Franchisor and Landlord meetings
Employee Interview Question – Why do you want to work here?"
The book Annette recommends
Play a bigger game achieve more; be more; do more; have more – Rowdy McLean
I wish I had known….. how hard it was
Quotes by Annette;
"Great customer service begins with listening to the stories of your customers" – Annette Kirby
"the beauty of franchising is it takes the guesswork out of what you are doing" – Annette Kirby
"we thought we knew best and didn't follow the system properly to please our customer, but it is actually very detrimental to the business"– Annette Kirby
"It is really important if you do buy a franchise that you follow the manual" – Annette Kirby
"Eat cake every day" – Annette Kirby
"Your passion is the million dollar thing – you must really love what you are doing" – Annette Kirby
Selected Links For This Episode
https://au.linkedin.com/in/annette-kirby-9b02563a
For your FREE E-course click on the link http://www.franchiseesuccess.com.au/wish