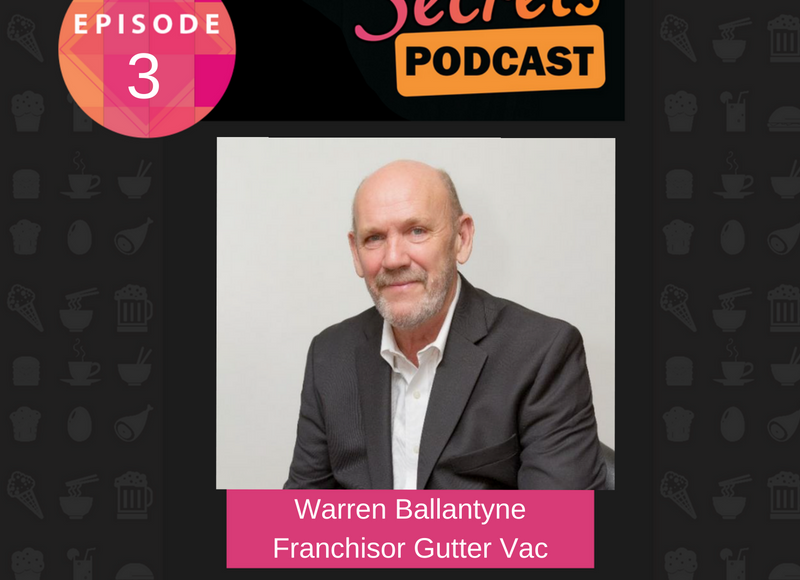 Podcast: Play in new window | Download
Warren Ballantyne
Franchisor – GutterVac
Warren Ballantyne is the founder, owner and managing director of Gutter-Vac – the world's first and largest gutter cleaning franchise; revolutionising the gutter cleaning industry.
Warren invented and developed the gutter vacuuming technology in 1995 and commenced franchising in 2000. Gutter-Vac now has around 70 franchises across 7 Australian States and Territories and has expanding its franchise system into North America (launch was July 2016).
Warren is also the founder, owner and managing director of Ballantyne Safety – a height safety concept that was created by Warren in 1995 to compliment the Gutter-Vac operating system. Ballantyne Safety's range of temporary roof safety equipment provides workers across Australia with a fast and effective method to safely work at heights.
Warren is also the chairman of Gutter-Vac International Pty Ltd and the Chief Operating Officer of Gutter-Vac LLC (the North American franchise company).
Warren has enjoyed serving on FCA's Queensland State Chapter for 7 years and has been President of the Queensland chapter of the FCA for the past two years Warren is dedicated to franchising in Australia and abroad.
During my conversation with Warren he shared:
How he grew from Plumber to Franchisor
What makes an ideal franchisee
How to set up and review systems in your franchise
What questions a Franchisee should ask a Franchisor
Having an internal Franchise Business Coach
Showing leadership in your business Selling a Franchise in the United States
What the Franchise Council of Australia (FCA) does
The awards that FCA offer – National, State and Next Gen
Warren's "One" thing
Stay in touch with Franchisees every day
 Warren's Franchise Secrets
Have a weekly routine
Participate in a networking group
"Me" time – Play golf – but only when her gets to 80 franchises
Getting the "Right" Franchisee – it is down to the relationship
Warren's Franchisee Tips
Talk to every franchisee in the system before you enter
Warren's Quotes
"If the Franchisor lets down the Franchisee they will fail and visa versa" Warren Ballantyne
"Read Biographies you learn a lot from those who have been there done that" Warren Ballantyne
Selected Links For This Episode
For your FREE E-course click on the link http://www.franchiseesuccess.com.au/wish
Warren's Book to Read – https://www.amazon.com/Want-Done-Right-Dont-Yourself/dp/1884956327
Gutter-Vac (Australia) | http://www.guttervac.com.au
Outback GutterVac (North America) | http://www.outbackvac.com
Ballantyne Safety | www.ballantynesafety.com.au